Advocating General Aviation
June 2, 2012
Flying to the Elba Island for the AOPA meeting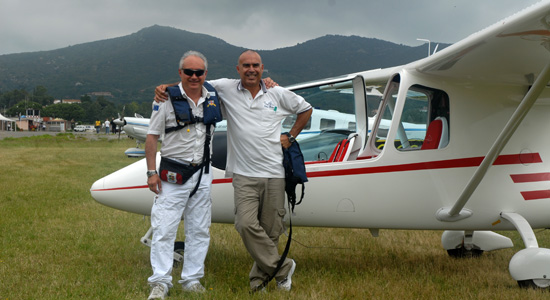 A stretch of sea is a stretch of sea, and flying 40 miles over open water on a single engine always requires some risk assessment.  Nevertheless we elected to fly a Sky Arrow to the AOPA-Italy yearly meeting, this year held at the Marina di Campo airport (LIRJ), on beautiful Elba Island, Tuscany.
General Aviation is probably going through its toughest period after WWII, and we felt our attendance was morally needed in order to increase the support of the actions in advocacy of our common passion.
Not only Italy is the country of love, good food and artistic masterpieces.  Unfortunately this is also the country where light aircraft are considered as luxury goods and, earlier this years, owners have been heavily taxed.  We also have some of the largest (and deepest) restricted/prohibited airspaces in the world… just try to cross our skies without a very careful planning and you are in for some enforcement actions from our CAA.
The above issues and possible remedies have been discussed during the works.  In addition, representatives from the Elba chamber of commerce and from the Marina di Campo airports signed an agreement with AOPA Italy in order to improve the promotion of the island's touristic business towards the aviation communities.
After a sumptuous seafood lunch, the attendees were boarded on a bus, courtesy Elba touristic board, and visited the nearby "Cecilia" winery, a multi-awarded wine-maker, as well as the "LocMan" headquarters, a famous wristwatch brand which still manufactures its beautiful timepiecesin Italy.