MAGNAGHI AERONAUTICA CELEBRATES NEW PILOTS WITH ABLE FLIGHT
July 31, 2013
Announcement given at Oshkosh's Phillips Plaza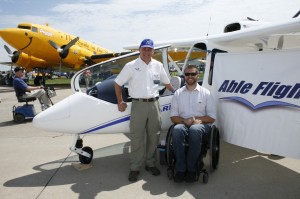 For the sixth consecutive year, the manufacturers of the Sky Arrow Special Light-Sport Aircraft (S-LSA) were delighted to join with Able Flight to welcome new pilots into the aviation community at EAA AirVenture Oshkosh 2013.
During a ceremony on the Phillips 66 Plaza on Tuesday, July 30, 2013, Charles Stites, founder and executive director of Able Flight, praised the cooperation of the Sky Arrow distributers and Magnaghi Aeronautica S.p.A. for their commitment to provide an adaptive aircraft that can meet the needs of physically challenged pilots. Magnaghi Aeronautica provides the hand controls at no extra charge to disabled pilots purchasing new Sky Arrows.
At the ceremony, six new pilots– Dennis Akins, Young Choi, Warren Cleary, Deirdre Dacey, Stephany Glassing, and Andrew Kinard–received their pilot wings from various members of the Able Flight Board of Supporting Directors. Each of the new pilots praised their instructors and the Sky Arrow aircraft. "We couldn't have accomplished this dream without the adaptive elements of the Sky Arrow," said new private pilot Warren Cleary. All of these new pilots trained with instructors from Purdue University, who used two Sky Arrow aircraft provided by Sky Arrow distributors to conduct the training, accumulating a total of 250 hours of flight training in five weeks.
In its six years of existence, Able Flight has helped 33 disabled men and women earn pilot certificates; 24 of these students have taken their training in the adaptive Sky Arrow. "We change lives, make pilots, and give people aviation career skills," Stites said. "Our students are three times more successful at attaining a pilot certificate than the national average of student pilots," he added.  "That speaks to the quality of instruction and the suitability of the aircraft."
Mike Hansen, a partner in Hansen Air Group, which rents the Sky Arrow out of its suburban Atlanta, Georgia, flight center, said Warren Cleary has become one of its best customers. "Warren recently rented a Sky Arrow to fly several of his family members off his parents' private strip, Mustang Field, after earning his private pilot certificate in the Sky Arrow. We love seeing Warren at our facility." Cleary added, "I can't stay away from that aircraft; I love flying it."