Injection and Supremacy
May 2, 2012
The new Rotax 912iS is here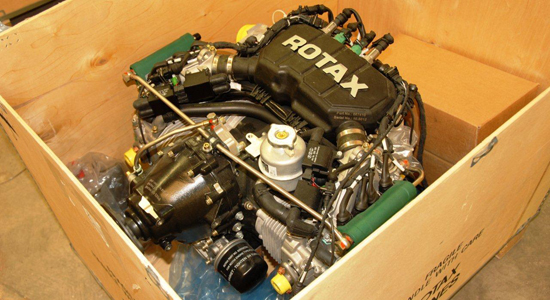 Shortly past the glittered presentation held at the BRP-Powertrain headquarters in Gunskirchen on last March 8, the new engine from Rotax, substantially a fuel injected 912, was delivered at the Magnaghi Aeronautica plant for evaluation and installation purposes on the new Sky Arrows.
Based on the proven concept of the Rotax 912 S/ ULS engine, the new 912 iS engine offers all well known advantages of the Rotax 4-stroke engine series, complemented by additional features, such as the engine management system. The complete package presents the latest technology in the aircraft engine industry and will enhance the flying and ownership experience of pilots. The ECU ensures the appropriate fuel air mixture at every altitude which results in reduced fuel consumption, lower operating costs and fewer emissions. The new 912iS engine follows Rotax`s aircraft engines core values: outstanding performance combined with the best power to weight ratio in its class.
Pilots will also appreciate the easier pre-flight check and starting procedures offering them enhanced flight experience.  Removing the need for servicing and synchronizing the carburetors every 200 hrs. and the elimination of the carburetor icing are major benefits for the user. Based on the ECU, the relevant engine parameters can be displayed on a digital instrument board.
The Rotax 912 iS engine features a 2,000 hr TBO and availability as an option on the Sky Arrow is expected by the end of the current year.