No less than 16!
May 12, 2012
Record attendance at the Sky Arrow fly-in near Rome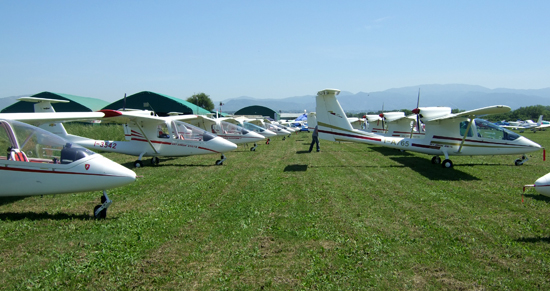 The occasion was the "Volo Ergo Sum" fly-in, organized on May 12 by grass-root  aviation enthusiasts from the "Tucano Aero Club" in Fiano Romano, a well managed airstrip north of the urban area of Rome, featuring two criss-crossing runways, both in grass and generous in length.
Weather forecast was sunny and the location is pretty central, so we took this opportunity to make a general call to all Sky Arrow owners in Italy, inviting them to their first fly-in from the start of Magnaghi  handling of the Sky Arrow assets.
From the first morning lights, our characteristic tandem seaters started to pop up in the traffic pattern and, at the end of the day, the Sky Arrow count had reached the record figure of 16! The aircraft were parked in a reserved area and I can assure that the neat, double row of our Sky Arrows impressed more than a visitor.
All crews were welcomed by Magnaghi's director of Maketing, Vincenzo Damiano, during a refreshment at the Magnaghi booth and a static model was presented to the pilot who had flown the longest distance to attend, Mr. Ulisse Morgione.
With the idea of repeating the fly-in every year, all crews left the airstrip with a broad smile in their faces.