Sky Arrows… ready to sail!
June 13, 2012
Sea container on its way to Oshkosh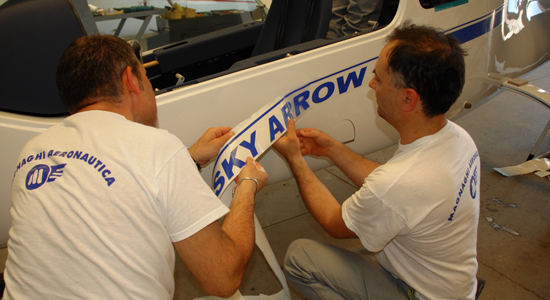 Going, going, gone.  As the door of the 40' sea-container is closed and locked, and the truck slowly starts to move towards the highway,  there is some time to relax at the Magnaghi Aeronautica plant.   The goal has been reached and the two Sky Arrows – the new LSA and the AWP (aerial work platform) – are on their way to Oshkosh.
Until that time, preparation has been hectic, especially on the new LSA, which incorporates the changes anticipated at the "Sun 'n Fun".  These changes include modified aerodynamics of the stabilizer and new, streamlined leaf-springs.  New Beringer wheels and brakes will guarantee a better ground handling.  The bar has also been raised in terms of situational awareness, with the adoption of a 10" Dynon Skyview system and a completely redesigned instrument panel.   On the aesthetic side, this first new LSA features new "deep blue" external striping and lettering, as well as matt blue and grey for the side consoles, seats, cushions and other cabin details.  In any case the traditional "Italian red" will still available on request.  The new LSA Sky Arrow will be officially introduced during a press conference, to be held at the Magnaghi Aeronautica booth at the Air Venture, details of which will soon be announced.
The other Sky Arrow sharing the container with the new LSA is the new AWP-ONE (Observation, News & Law Enforcement) will feature a Goodrich sensorial system based on a TASE 300 gyrostabilized camera, and will also be made available to media for questions and demos.