The Sky Arrow is back!
March 28, 2012
Announcement given at Lakeland's Sun'n Fun!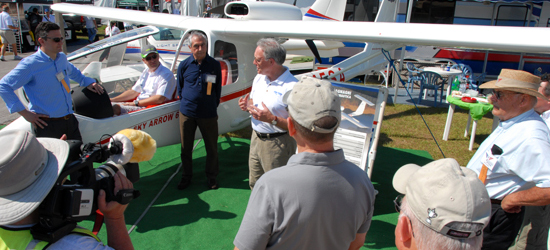 Well, it was about time.  After what looked like a never-ending period of uncertainty, at last the Sky Arrow aircraft series found a new owner and producer.  The company is Magnaghi Aeronautica, one of the leading aerospace groups in Italy, mainly focused in activities of design and production of complete landing gear systems for transport aircraft and helicopters.  In addition Magnaghi Group, with a company named Salver, produces control surfaces for regional class aircraft as well as other aircraft composite structures and parts for a number of companies.  Magnaghi clients include ATR, Bombardier, Agusta-Westland, Alenia Aeronautica and Piaggio Aero Industries.
With the acquisition, at the start of 2012, of all the assets from Iniziative Industriali Italiane S.p.A., former manufacturer for the Sky Arrow, Magnaghi has entered the light aircraft industry with his lengthy experience and know-how.  It has to be considered that the company was founded back in 1936, with the production of parts for the Italian military aircraft of the pre-WWII age.
During the press conference held at the Hansen Air Group booth in Lakeland, executives from Magnaghi Aeronautica gave the announcement and anticipated a new version for the LSA Sky Arrow, to be introduced in July, which "will retain all basic design qualities and  incorporate new features, such as larger wing tanks, aerodynamic refinements and state-of-the art avionics, which will make the sleek and sturdy aircraft fly faster, farther with better comfort and situational awareness".
Video of the press conference: