YES, WE'VE MOVED… TO ITALY'S HEEL!
January 14, 2013
Sky Arrow's new home found at Salver (Magnaghi Group)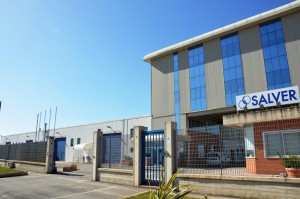 It happened in the days immediately before the turn of 2012, when all personnel at the Rome-Monterotondo plant started packing up machining equipment, molds, ovens,  aircraft parts and documents.  In the early 90's that same complex, located a few kilometers north of Rome,  had been the place of birth for the Sky Arrow, which made the operation somehow touching to those long-time workers and engineers, who nevertheless diligently prepared dozens of crates of homogenous material  for the shipment.
A few days into 2013, in compliance with Magnaghi's Sky Arrow industrial plan, that material – several truckloads – had been repositioned in a dedicated area within the Salver plant in Brindisi, the main town at the heel of Italy. Salver S.p.A., part of Magnaghi Group, is an aerospace company specialized in aerostructures.  With customers like Alenia, Boeing, Airbus, Piaggio, Agusta-Westland, ATR and Aermacchi, Salver manufactures composite and metal parts ranging from tiny airframe components to control surfaces, radomes, all the way to the huge A380's engine nacelles.  Salver's Quality System includes UNI EN ISO 9001:2000 as well as AS EN 9100:2003 Certification, which guarantees the highest aerospace manufacturing standards.  Salver is also an EASA PART 21 (DOA) Production Organization. For sure, current and future Sky Arrow production will benefit from Salver's impressive background on hi-tech composites and the exchange of impressions between the Sky Arrow manufacturing team and Salver's skilled personnel will allow for further developments of the program.