MAGIC REMEMBRANCE WEEK-END AT ORBETELLO
May 19, 2013
Sky Arrow static and flying in top-class airshow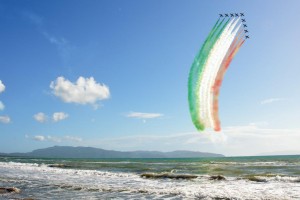 Back in the years before WWII, Orbetello, Tuscany, was the most important Italian Air Force seaplane base.  From this lagoon Italo Balbo, then Italian Marshall of the Air, led the two mass transatlantic flights that still remain in history among  the most impressive all-time aviation achievements. The first event was the 1930 flight of twelve Savoia-Marchetti S.55 flying boats to Rio de Janeiro.  Then, in the month of August, 1933, he led an epic Transatlantic flight of twenty-four S-55's on a round-trip from Rome to the "Century of Progress" exhibit  in Chicago, USA. The flight, which had seven legs,  ended on Lake Michigan. In honor of this achievement, Mussolini donated a column from Ostia to the city of Chicago, and the city renamed Seventh Street as Balbo Drive , staging a parade in his honor.
In the 80th anniversary of the North-American mass flight, a 3-day celebration was held in Orbetello, arranged by civil and military authorities, which included displays, concerts, an outdoor church service in memory of the brave aviators and a final, top-class airshow, which was arranged over the coast of Albinia, a few miles north of Orbetello.   Prior to the show, an outdoor reception was arranged for the Italian Air Force's guests, with a Sky Arrow in static display nearby to the lunch area.  This gave several attendees the opportunity to check out the comfortable and functional aircraft cockpit.
The opening act was one of the highlights of the airshow, with an LSA formation led by a Sky Arrow flown by Giuseppe "Beppe" Arcangeli, son from Dino, one of Balbo's intrepid aviators.
In a perfect beach day and hosted in a sumptuous set-up, all guests enjoyed the show, which was traditionally concluded by the "Frecce Tricolori" routine.  This is simply the excellence of formation aerobatics, as Frecce Tricolori, aka Pattuglia Acrobatica Nazionale, is a globally renowned aerobatic team.
Btw, prior to the show, the "Frecce" leader, Major pil. Jan Slangen, had the opportunity to check out the cockpit of the Sky Arrow in static exhibit and gave his thumbs up… quite a satisfaction for Magnaghi Aeronautica and us Skyarrowers!